Beau gets gigs as a voice-over actor in much the same way people order a car on Uber or find a date on Tinder. The 27-year-old Pasadena resident flips on his computer and logs on to an online marketplace that connects voice actors to clients who need them. Profiles are searchable, have work samples and can pinpoint voice characteristics with adjectives such as believable, real, sweet and saucy.
Gone are the days where voice actors were forced to zoom all over Hollywood for auditions. The digital disruption that's occurred in other professions is quickly changing the $15-billion voice-over industry, enabling actors to cut out agents and find work on movie trailers, commercials, corporate training videos and audio books.
The first job he was hired for was a training video for a real estate software company. He was paid $100. But that led to eight commercial spots for Gold's Gym, narrating a trailer for the video game "Beyond: Two Souls" and projects from 20th Century Fox, Walt Disney Co. and Red Bull. "I was working my tail off," said Stephenson, who added that he made $200,000 from work last year. For decades, the industry hadn't changed much since Walt Disney became one of the first voice-over actors when he portrayed Mickey Mouse in 1928's "Steamboat Willie." Actors ever since have gone through a process of waiting in long audition lines with the hope of being hired to come back into the studio to read a script.
But the industry has evolved right along with technology. For just a few thousand dollars, actors can set up a professional home studio by hooking up a computer with a microphone and mixer. Stephenson was even able to build a recording booth from wooden planks and carpet bought at Home Depot, and hooks the entire system together with high-speed Internet lines.
Read the full report Voice-over Actors are Talking Up the Apps that Help Them Get Work.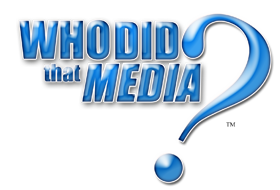 Need fresh video creative or voice talent?
Click here to learn more about Who Did That Media and how we can help you or contact us today to discuss your marketing needs: