Television 2020 vision is about personalized technology, on-demand viewer experience, individuated content distribution, binge-watching, small television shows and independent cinema, innovative television formats, more localized and vernacular content, ad-free models to targeted ads and everyone connected to a smart TV.
TV viewing has expanded to 5.8 hours per day in the last decade, with the hours divided between the dozens of screens. IPTV market to touch $80 billion in 2020, Europe and Asia pacific emerge as the burgeoning IPTV markets. Annual global IP traffic will cross the the two zettabyte threshold in 2019. Global IP traffic will touch 1.1 zettabytes per year or 88.4 exabytes (one billion gigabytes) per month in 2016. By 2019, global IP traffic will reach a new milestone figure of 2.0 zettabytes per year, or 168.0 exabytes per month. Content delivery networks will carry over half of Internet traffic by 2019. 90% global internet traffic will go video by 2018, streaming-alone households in US will hit 14 million by 2020. It would take an individual over 5 million years to watch the amount of video that will cross global IP networks each month in 2019. Every second, nearly a million minutes of video content will cross the network by 2019.(Cisco) With introduction of disruptive business models and innovative technologies, television is transforming itself. Let us look at trends shaping the future of television –
Over-the-top television
Over-the-top television is new age broadcasting. TV via live streaming, BBC iPlayer, Netflix, multi-platform video, smartphones & consoles, has ushered in the age of TV Everywhere and burgeoning content. What is it that Amazon Prime, Hulu TV, Sling TV, HBO Now, Netflix, offer , that has shaken up broadcasting? On demand access, video-on-demand, stand alone streaming, multiple screens viewing, flexible subscriptions, slimmed down television bundles, original content, audience interaction, cost-effective packs, are among a few things on the platter. So broadcasting has moved beyond linear television, cable bundles and inflexible programming.
Read the full report TELEVISION 2020: Top Predictions on Technology.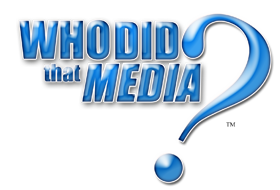 Need fresh video creative or voice talent?
Click here to learn more about Who Did That Media and how we can help you or contact us today to discuss your marketing needs: