One of my favorite moves when doing a presentation is to pull an iPhone out of my pocket, hold it up high in the air, and ask the question, "Okay, can someone tell me what this is?"
When a few people inevitably identify it as an iPhone, I thunder, "Wrong! This is a portable television studio. And most of us in the room are carrying one around in our pockets without even knowing it!"
We now have the ability anytime we want to broadcast our videos to the entire world, for free. The barrier to entry and the cost associated with creating videos has never been lower. So why are so few businesses taking advantage of it?
Video matters
It's no secret that in today's business environment, face-to-face interaction has become a unique, if not rare, form of communication. Aren't most of your daily interactions, whether it's with a client or a customer, done over the phone or via email? But how do you ever really get to know people without ever seeing them?
Read the full article here.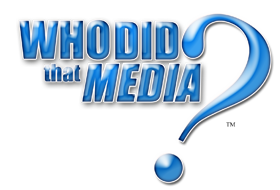 Need fresh video creative or voice talent?
Click here to learn more about Who Did That Media and how we can help you or contact us today to discuss your marketing needs: