Getting to a television producer can be a tricky task — unless you know that the first thing producers look for in a potential guest is how you appear on camera or video. What will a producer find when they look for you on video?
Here are five ways to maximize your chances of landing on a producer's radar:
1. Create videos and a sizzle reel.
Whether you're a musing blogger or a software engineer willing to share some knowledge, video topics are endless. You can present yourself in a colorful bio, demonstrate products, start a how-to series, showcase your DIY skills or even indulge in a blog.
Creating a sizzle reel that highlights your best on-camera moments is a great idea, since a busy producer will get to size you up within minutes. Consider the sizzle reel a visual version of your elevator pitch: tell your story in two minutes, with compelling images punctuated with telling sound bites. Include video footage, pictures and even voice-over sound bites.
A sizzle reel should give the viewer a fast but thorough glimpse of what your brand is about.
Read the full article here.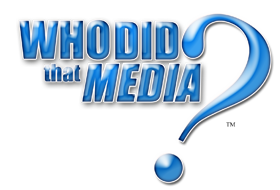 Need fresh video creative or voice talent?
Click here to learn more about Who Did That Media and how we can help you or contact us today to discuss your marketing needs: