WRAL Documentary's most recent project is Ghosts in the Stadium, a historical documentary that examines the unknown past of four iconic football stadiums in the Carolinas and their links to the painful history of race relations in the United States.
WRAL Investigative Documentary Producer Cristin Severance and WRAL Sports Anchor Chris Lea set out to uncover who these stadiums were named after, where they were built and what communities they displaced.
"When Chris pitched doing a WRAL Doc and WRAL Sports collaboration, I had no idea the secrets we'd uncover at these sites," said Severance. "It's important to tell these stories because they're true. While some of these events happened more than 100 years ago, the impacts are still seen today."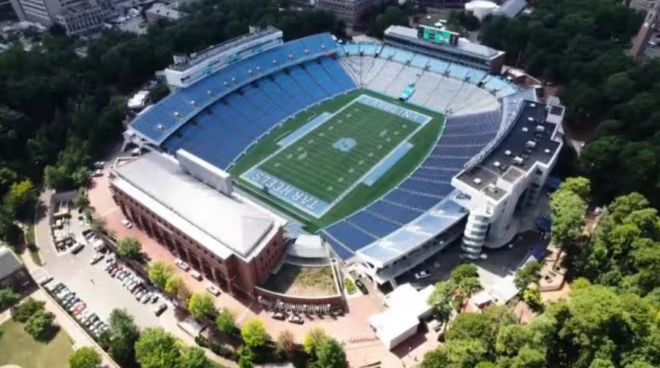 Severance, Lea and WRAL Documentary Photojournalist Dwayne Myers traveled throughout North and South Carolina and explored the history behind Kenan Stadium at UNC Chapel Hill, Carter-Finely Stadium at NC State, Bank of America Stadium in Charlotte and Memorial Stadium at Clemson University.
Stadiums are built to bring people together. While these four sports complexes exist on sites of violence against Black people, burial sites of the formerly enslaved, and Black communities displaced in the name of progress, there is opportunity in the unity of sports to celebrate the citizens forgotten by the existence of these massive structures.
"Some think these painful histories only serve to further divide us. That's wrong," said WRAL Sports Anchor Chris Lea. "Knowing real, local American history that helped to shape our communities will help us understand and empathize with each other, while also starting a healing process for everyone to move forward with," said Lea.
How to watch Ghosts in the Stadium on the WRAL Website: https://www.wral.com/story/wral-documentary-ghosts-in-the-stadium-examines-unknown-past-of-four-iconic-football-stadiums-in-the-carolinas/21103423/
Watch on Streaming: Ghosts in the Stadium is available for on-demand viewing on WRALDocumentary.com, Amazon Fire TV, Apple TV, Roku, and Samsung Smart TV.
Watch on YouTube: The documentary is now available on WRAL Doc's YouTube.